"Follow the munKNEE" via twitter & Facebook or Register to receive our daily Intelligence Report
16 point 7 trillion dollars.  That is our current national debt.  12 point 8
trillion dollars.  That is the amount households carry in mortgage and consumer debt.  We are now addicted to debt to lubricate the wheels of our financial system.  There is nothing wrong with debt per se, but it is safe to say that too much debt relative to how much revenue is being produced is a sign of economic problems.  At the core of our current financial mess is how we use debt as a parachute for any problem. [Unfortunately,] addictions are never easily cured and we have yet to come to terms with our insatiable appetite for debt.  Words: 850
So writes MyBudget360 (www.mybudget360.com) in edited excerpts from a post entitled The United States of Debt Addiction:  Our reliance on debt has created an entire economy fortified in the fires of moral hazard and fiscally dangerous leverage.
This article is presented compliments of

www.FinancialArticleSummariesToday

.

com

(A site for sore eyes and inquisitive minds) and

www.munKNEE.com

(Your Key to Making Money!) and may have been edited ([ ]), abridged (…) and/or reformatted (some sub-titles and bold/italics emphases) for the sake of clarity and brevity to ensure a fast and easy read. Please note that this paragraph must be included in any article re-posting to avoid copyright infringement.
The article goes on to say in further edited excerpts:
We've been masking the shrinking of the middle class by allowing households to take on too much debt for a couple of decades.  The results were not positive.  Too this degree, we have now created a massive moral hazard economy where savings are punished into oblivion.  There is very little incentive to put your money in a bank account yielding zero percent interest when real inflation is eating away at your money like a hungry wolf.  So what do people do?  Well many simply cannot save and therefore choose to go into debt to finance cars, housing, and education with very little down.  Where does this debt addiction lead us?
A little bit of deleveraging
US households have deleveraged from the peak in the crisis [as can been see in the chart below].  However, much of this deleveraging has been forced via the 5 million foreclosures that have occurred but I'm not sure if we can interpret that as some sign of a healthy and growing economy.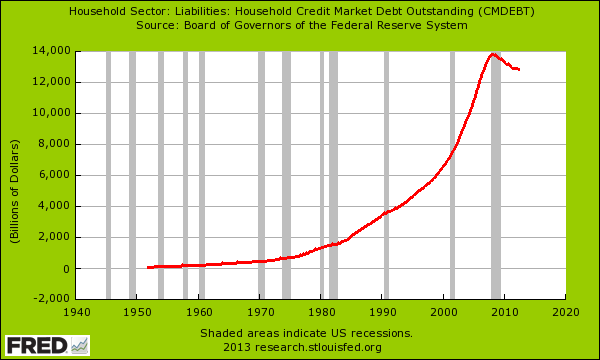 [While] households have had their access to debt limited in many sectors…higher education [is not one of them].  There is little doubt that there is a major bubble in higher education.  Instead of addressing the problems head on we now have more access to debt as the solution.  In order to compete in our service driven economy, having a skill is very important.  Most will make the investment to pursue a college degree but the issue is that with easy access to debt, prices have soared.  It is no surprise that college prices are following the trajectory of what happened in housing.
If you look at the above chart, a big part of the contraction has come from deleveraging from mortgages and credit card debt yet we are now, once again, loading up on auto debt and college debt.
The Fed has Made It Unattractive to Save
The system is now setup to punish any type of savings.  Good luck trying to stash your money in a bank account and outrun even the steady pace of inflation. [Just] take a look at the current savings rate for Bank of America: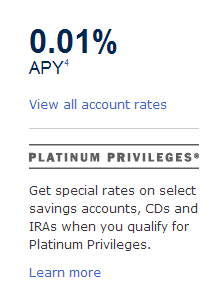 Of course the Fed has a hand in all of this.  The Fed realizing that our system for over a decade has been juiced by debt spending, had to step in and make it unattractive to save to the point that people are willing to dive into risky investments yet again.  Because of this however, you create moral hazard.  For example, with housing you have many government backed loans that are now accessible with very little down.  In fact, this has been the path of ownership for most Americans since many are without savings.
Many Americans in Desperate Straits
1 out of 3 Americans has no savings and nearly 50% are one or two paychecks away from being out on the streets. This is why we have seen such a dramatic rise in food stamp usage [as can be seen in the graph below]: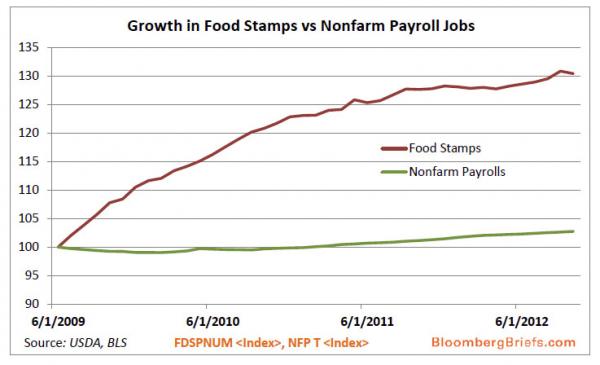 Why save to buy anything when you can simply go into debt for it?  That seems to be the course we are treading on.  We have reached a critical point where our national debt is now higher than our annual GDP.  This crossing of the Rubicon is seen as a major financial tipping point.
Masking of Real Unemployment Rate
We have also mastered how to hide certain employment figures: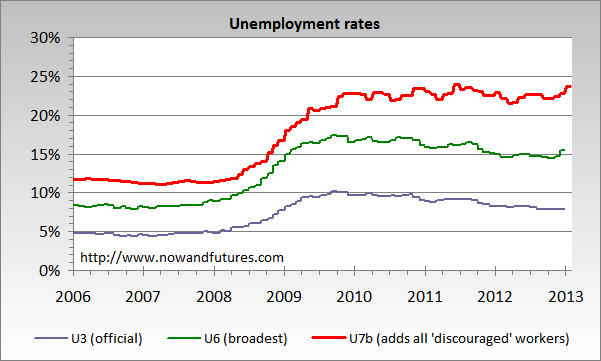 A look at the U7b measure – the unemployed + underemployed + discouraged workers – shows various forms of un- or under-employment – is nearly up to 25%….        
What Recovery?
People think that this recovery has come from organic forces when in reality, it has come because of number games and also the Fed injecting trillions of dollars into the banking industry.  Ironically these banks are using this money to speculate in markets like stocks and housing where they are now crowding out working and middle class Americans.  When you have access to a printing press with no restraints, it becomes too tempting to spend into oblivion.
Conclusion
Instead of confronting the core problems of the crisis, we are simply repeating them yet again; easy access to low down payment mortgages, easy access to student debt, consumer credit slowly expanding, and major Wall Street speculation.
Addictions are never easily cured and we have yet to come to terms with our insatiable appetite for debt.
Editor's Note: The author's views and conclusions are unaltered and no personal comments have been included to maintain the integrity of the original article. Furthermore, the views, conclusions and any recommendations offered in this article are not to be construed as an endorsement of such by the editor.
*http://www.mybudget360.com/united-states-debt-addiction-and-moral-hazard-financial-leverage/ (For a RSS feed of all articles posted on mubudget360 go here)
It's

FREE

The

"best of the best"

financial, economic and investment articles

An

"edited excerpts" format

to provide brevity & clarity for a fast & easy read

Don't waste time

searching for informative articles. We do it for you!

Register

HERE

and automatically receive every article posted

"Follow Us"

on

twitter

&

"Like Us"

on

Facebook
Related Articles:
1. Insights on the "Debt Ceiling" that Perhaps You Didn't Know
The "debt ceiling" has replaced the "fiscal cliff" as the new crisis of the month. The gargantuan debt of the U.S. which – as of this writing – stands at an astounding $16,450,981,484,618 is now slightly above our current national debt ceiling of $16.394 trillion and growing. Let's take a closer look at what the debt ceiling is and why it is important. Words: 1020
2. Consumer Indebtedness Leading to Currency Devaluation & Beggar-Thy-Neighbor Economic Policies
The current move up over the past 4 years is being driven by the Fed's loose monetary policies (just as other global markets have been driven by their Central Banks).  Most bulls believe the loose polices will stimulate enough consumer demand to lead to a significant U.S. economic recovery.  We, however, continue to believe the debt – laden consumer, along with the still other unresolved debt burdens, will be a major drag on the U.S. economy, (we are convinced that the market will turn down and make a triple top at levels below the peaks made in 2000 and 2007 while we resume the secular bear market that started in 2000) and that will have negative affects on the global economy.
3. Gov't Debt Will Keep Increasing Until the System Implodes! Are You Ready?
Why are so many politicians around the world declaring that the debt crisis is "over" when debt-to-GDP ratios all over the planet continue to skyrocket?  The global economy has never seen anything like the sovereign debt bubble that we are experiencing today. This insanity will continue until a day of reckoning arrives and the system implodes.  Nobody knows exactly when that moment will be reached, but without a doubt it is coming. Are you ready? Words: 1270
4. A Practical Assessment of the U.S. Debt Problem Shows It to Be Absolutely Absurd
The U.S. debt situation when broken down to one of family statistics really seems absurd. Yet it's true. It's a slow motion train wreck that can be seen coming miles away but which, like deer paralyzed in the headlights, everyone is unwilling to face up to and to take any meaningful corrective action – and it will be the downfall of them all. Words: 550
5. Finally! Someone With the Balls to Face Reality and Outline the Probable Outcome & Utter Hopelessness of America's Debt Problems
Many articles are being written these days that more or less scope the dire financial circumstances the U.S. is in. That being said, I had not been able to find one "analyst" – even one – who had the guts to outline the probable outcome and general hopelessness of the situation and to offer any meaningful prescription for investors to survive this coming catastrophe – until now. Words: 710
6. Economics of Gov't Are No Different Than Those of Typical American Family – Here's Why
If Congress does not raise the debt ceiling, the result will be no different than the Jones family deciding that they have maxed out their credit cards and that, if they continue borrowing and spending over their means, there will be significant pain to the family at best and bankruptcy at worst. Any attempt to prove otherwise is futile because it's just not true! [To further make his point the author provides below 7 other examples of why the economics of government are no different than those of the typical American household.] Words: 585
7. U.S. Debt 101: If the U.S. Were A Stock Few Investors Would Own It – Here's Why
There has been a lot of media coverage about the United States' debt issue these days. Why should we care? Because as U.S. citizens, we all own stock in this "company" called the United States of America (let's say the ticker symbol is USA). We purchased this stock through the various taxes we pay every year (income tax, payroll tax, corporate tax) and we receive dividends through the various benefits we receive every year (security provided by defense budget, Medicare/Medicaid benefits, Social Security benefits, etc.). This article attempts to explain the U.S. national debt in simple layman's terms by analyzing the United States and its debt issue as if it were a stock investment. Words: 1929; Charts: 5; Tables: 1
8. U.S.'s Runaway Financial Train is About to Destroy the Status Quo
People riding a runaway train can party and remain oblivious to the fact that the train is about to crash into a huge obstacle. Our runaway financial train is about to destroy the status quo as it crashes into the obstacle of mathematical consequences – the inevitable financial train wreck. "If something cannot go on forever, it will stop." [Let me explain.] Words: 974
9. Take Note: Don't Say You Weren't Forewarned!
It is relatively easy to predict further commodity price inflation as a result of the massive money printing going on worldwide and that hard assets, not paper assets, will help protect purchasing power but it is much more difficult to project where else this money printing leads and to what extent a crash is inevitable. What is the endgame? Will it be another financial crash such as in 2008 or will it be a more destructive financial and economic crash that causes a severe but temporary disruption in the delivery of goods and services? Words: 1470
10. A Must Watch Video On Why America Is In A "Death Spiral"
The video*  below is one of the best overviews of what is going on and one of the best explanations of what lies ahead that I have heard. As such, in my opinion, it is A Must Watch!
11. These 25 Videos Warn of Impending Economic Collapse & Chaos
The internet is awash (drowning?) in hundreds of doom and gloom videos providing dire warnings of coming world depression, food shortages,  rioting in the streets, rampant (hyper) inflation, deepening banking crisis, economic apocalypse, financial Armageddon, the demise of America – well, you get the idea. Below is a small sample of such videos with a hyperlink to each.
12. The Ultimate Fear Mongering Video – or the Ultimate in Insights, Forecasting & Sound Advice? You Be the Judge