"I'm tired of these self-righteous environmentalists, these white,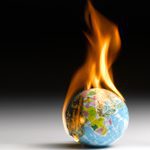 bourgeois liberals who think the only thing wrong with this country is there aren't enough bicycle paths." – George Carlin

As a young funny-man George Carlin criticized the fashionable targets, mostly corporations and private enterprise. He fancied himself a kind of "hippie" Lenny Bruce but a funny thing happened to George Carlin: he grew up. The YouTube clips available regarding George Carlin's later performances make it clear he had become a fierce critic of what we would call the power elite.
He didn't come right out and say it, but over the years the paradigm he utilized – the prism with which he viewed the world – apparently changed and evolved. Thus, toward the end of his too-short life, he committed to film some indescribably great, and funny, rants. We dare you to watch it and not laugh unless, of course, you're one of those grim Greenies. By the way, the video includes some cursing.
[Here's the video.]
By TheDailyBell.com – The original article was edited ([ ]) and abridged (…) to ensure you a fast & easy read.
"Follow the munKNEE" on Facebook, on Twitter or via our FREE bi-weekly Market Intelligence Report newsletter (see sample here , sign up in top right hand corner)